Download Mi Bypass Tool 4.0 Xiaomi-Samsung FRP Bypass
June 7, 2023
The Mi-Bypass tool V.4.0 lets users disable or stop over-the-air (OTA) updates for MIUI14 if they wish complete control over software updates on their Xiaomi and Samsung smartphones.
Supported Models Without Ask Code
SM-A215U TMK-TMB AIO-VZW-DSH-XAU-USC
SM-A136U TMK-TMB-AIO-VZW-DSH-XAU-USC
SM-A326U TMK-TMB-AIO-VZW-DSH-XAU-USC
SM-A037U TMK-TMB-AIO-VZW-DSH-XAU-USC
SM-T227U TMK-TMB-AIO-VZW-DSH-XAU-USC
How to use Mi Account Unlock Tool Xiaomi FRP Bypass
Xiaomi smartphone users can easily factory reset or Mi Cloud Account bypass with this Mi Account Unlock Toolkit.
One should simply boot the device into recovery mode and then follow our simple steps to unlock Mi account.
1. Firstly, download the Mi Account Unlock toolkit from the above download section to your computer.
2. Extract the .zip file and run the ".exe" file as an administrator.
3. Boot your device into recovery mode. To do so, press and hold the "Volume up + Power" key.
4. Connect your device to your PC using a standard USB cable.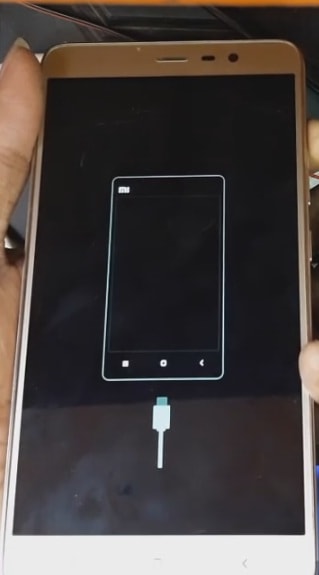 5. Go to Mi Account Unlock Tool and tap on 'Information' to confirm whether the device is connected or not.
Note: If you are unable to see device information into tool's log window that means the device is not recognized by the software. Make sure to re-connect your device or install proper Xiaomi USB Drivers.

Download Mi Bypass Tool
7. Finally, you need to click on "Bypass Mi account".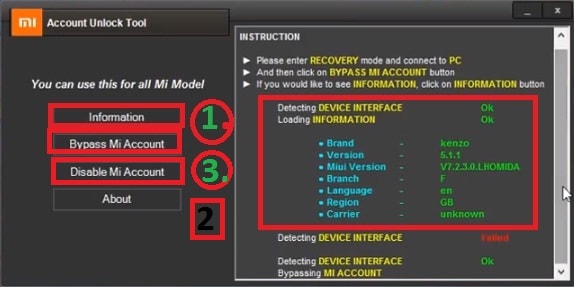 8. Device reboots automatically.
Congratulations! You've successfully unlocked or bypassed Mi account verification using Mi Account Unlock Tool.
That's all! If you have any queries regarding the above tutorial, comment below. We'll get back with the most possible solutions.
Download Mi Bypass for FRP Bypass
Mi Bypass tool is a small tool for windows computers.
It allows users to FRP Bypass on Samsung, Xiaomi, and other brands of mobile. The tool is working with the server or do you need to credit the balance for the use of this tool?
Samsung mobile FRP you can bypass in MTP mode with only one credit of balance no need to test mode Samsung mobile.
The Mi Bypass tool is a software tool designed to bypass the lock screen on Xiaomi devices.
It is often used by users who have forgotten their lock screen password or pattern and are unable to access their devices.
The tool works by resetting the lock screen and allowing the user to set a new password or pattern.
It is important to note that using the Mi Bypass tool will erase all data on the device, so it is recommended to back up any important information before using it.