Download iFrpfile No.1 Worldwide iCloud Bypass iOS 16.3 – 16.2
February 16, 2023
Frpfile is a No.1 worldwide, free iCloud Bypass tool that can disable the activation lock on iPhone, iPad, etc. iFrpfile is a simple way to remove iCloud as well as Locate Your iPhone and iPad using the USB cable. For passcodes, disabled iPhone Jailbreak is required.
Download iboy ramdisk Crack Version
HELLO IOS 16.3 BYPASS, NO NETWORKS, WIFI ONLY, BROKEN BASEBAND, SYNC iCloud
To change it to (auto), you can use any purple tool. here is magiccfg no need dcsd cable (IP 7- x) download
iBoy Purple also builds in "Change SN"
For iBoy purple, u don't need DCSD (Only A10 – A11). and installed Diags CDC Driver
Diags CDC Driver can install with disable driver signature mode, and from add legacy hardware.
Connect the phone to normal mode, read the device, and click generate activation, after success generate go the next step.
Premium Version Download
With eBay 21 Day Money Back Warranty.
PWNED device using your preferred bootable,
Start Boot Ramdisk. (Read DFU -> BOOT 1/BOOT 2)
Click Connect SSH, if successful you can do the next step.
Click Activated Hello, done
All Step By Step Done Successfully (Thanks for Using Our Tools), you can set up your device.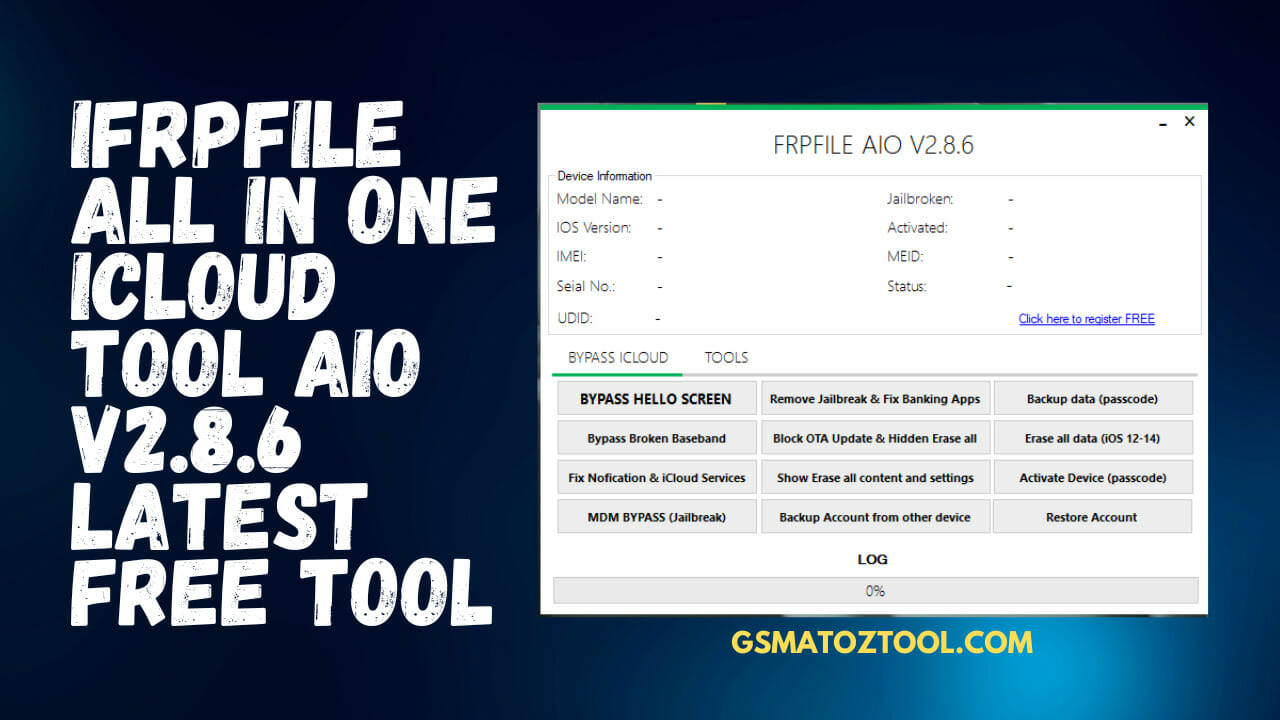 Download iFrpfile All In One iCloud Tool AIO v2.8.6 Latest Free Tool
If the tool gets stuck at 90%, re-jailbreak it using checkra1n
Download iboy ramdisk Crack Version
iCloud Bypass iOS 16.3 FRPFILE, the All-in-One AIO iCloud software, is available on the Windows platform. It can be used to get around IOS 16.3 iCloud lock at no cost. If your iPhone is stuck in the iCloud lock, it's an excellent tool to unlock the iCloud lock on your iPhone and iPad. If you'd prefer to install the IFrpfile all in One Tool iOS 16.3, the most current version, go to the article and click the button to download.
Features:
Add Bypass fix notification, iCloud provider Facetime iMessage and Siri (no signals)
Repair skip passcode; all functions working
Input function to convert backup documents (skip password) from another instrument
Repairing the hidden iCloud Owner Changed Password iclould allow you to log in to new accounts
Repair bank programs for iPhones and iPads have been obliterated
Download Checkra1x IOS 16.3 – 14.2.1 File MAC
Download Checkra1x IOS 16.3 – 14.2.1 File Windows
Fix bypass hello screen iOS 12.5.1 – 14.4.2 – 15.2
Fix Error 404 server down
Include Bypass fix notification for iCloud services, facetime Siri, and iMessage (no signals)
Repair bypass passcode for all functions working.
Include a function to convert backup files (bypass code) from another program
Find iCloud Owner Password Changed Hidden can sign in to an account.
Fix banking apps that are blocked for iPhones and iPad bypassed.
Fix error checkra1n 0.12.3
Change the MEID of the server (GSM is not supported at present) to disable notifications in full, Facetime, iMessage Siri (no signal)
Support IOS 12 – 14.5.1 – 16.2
Fix the error that shows the serial number bypass passcode
Repair the problem by skipping the Setup
Fix Convert backup files
Add bypass WiFi no MEID
The Support 14.5.1 – 14.6 and 14.7
Add Apple Finder to track Passcodes/Disabled/Lost devices
Bugfix bypass
Fix Bypass untethered IOS 14.7.1 – 16.3 (Apple has patched Albert server activation request. Free tool bypass only Untethered without notification and iCloud services …)
No MEID must be used on the sim to get the pin code or remove the baseband.
Fix bug bypass passcode
Add to an iCloud account that has a backup account. The device receiving the backup account must have the same IOS 16.3 version as the device. Create an account.
iFrpfile All In One iCloud Tool AIO iOS 16.3 Latest Free Tool
Fix Erase all data. Devices that work with it were not able to access iCloud.
Include the function Show Erase All settings and content
Fix the bug that bypasses passcodes (fix error: Cannot locate an activation file for this device, it is not supported!)
Cleanse all information and do not hang on the logo
Fix the bug that blocks
Fix Error "Can't connect server. Try disabling either VPN or proxy."
Bug fix auto-closing at 50 per cent
How to Use?
First Download Checkra1x IOS 16.3 File & Baleno Make Bootable Pendrive
Jailbreak Your iPhone 6 to X -11 pro – 14 pro max.
Initial Setup of Your PC
Download the ifrpfile AIO tool and install it.
Register Your Serial NO Go Here
Take 15 to 1 minute. Then, open the ikey tool.
Presently Select GSM Bypass FULL Services and start Bypass.
That's it.
How To Download FRPFILE AIO V2.8.6
iFrpfile All In One iCloud Tool AIO iOS 16.3 is the latest free tool that can be used to bypass the iCloud activation lock. This tool is very easy to use and can be used on any iOS device. With this tool, you can unlock your device in just a few minutes.